Products:Nisin Preparation
CAS:1414-45-5
INS:234
Molecular weight:3330.31
Molecular formula :C141H228O38N41S7(Nisin Z)
Molecular structural: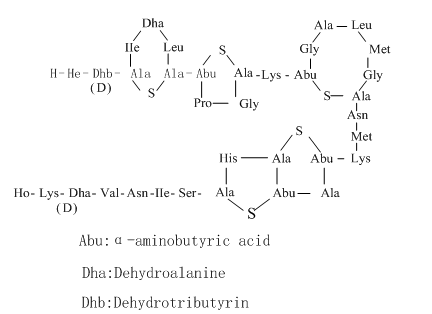 Nisin Preparation occurs as a white, free-flowing powder. It is a mixture of closely related polypeptides produced by strains of the Lactococcus lactis subsp. lactis Lancefield Group N in a sterilized milk-culture medium.
Nisin was first introduced commercially as a food preservative in the UK approximately 30 years ago. First established use was as a preservative in processed cheese products and since then numerous other applications in foods and beverages have been identified. It is currently recognised as a safe food preservative in approximately 50 countries.The established uses of nisin as a preservative in processed cheese, various pasteurised dairy products, and canned vegetables.More recent applications of nisin include its use as a preservative in high moisture, hot baked flour products (crumpets) and pasteurised liquid egg. Renewed interest is evident in the use of nisin in natural cheese production. Considerable research has been carried out on the antilisterial properties of nisin in foods and a number of applications have been proposed. Uses of nisin to control spoilage lactic acid bacteria have been identified in beer, wine, alcohol production and low pH foods such as salad dressings. Further developments of nisin are likely to include synergistic action of nisin with chelators and other bacteriocins, and its use as an adjunct in novel food processing technology such as higher pressure sterilisation and electroporation. Production of highly purified nisin preparations and enhancement by chelators has led to interest in the use of nisin for human ulcer therapy, and mastitis control in cattle.
Nisin is listed as a "natural preservative" in chemical dictionaries. In addition, nisin as "replacement or partial replacement of chemical preservatives." Nisin was awarded the Generally Regarded as Safe (GRAS) designation in the U.S. Federal Register of April, 1988 and is approved as a natural food preservative in the United States. It is also approved as a natural food preservative by more than 60 other countries as well as with the Food and Agriculture Organization/World Health Organization and the European Union. The NisinPro brand of nisin is certified kosher, as well.
In the U.S., nisin is used to inhibit outgrowth of Clostridium botulinum spores (the cause of botulism) and toxin formation in pasteurized process cheese spreads with fruits, vegetables or meats at levels not exceeding good manufacturing practice. Current good manufacturing practice in this case is the quantity of the ingredient that delivers a maximum of 250 p.p.m. of nisin in the finished product. nisin is also approved for liquid egg products, dressings, and sauces. In other countries it is also used in fresh and recombined milk, fermented beverages like beer, canned foods, frozen desserts, and high moisture/reduced fat foods. Nisin is considered effective at controlling a wide range of gram-positive organisms including: Listeria, enterococcus, Bacillus sporothermodurans, and clostridium. Used alone, it is not effective on gram-negative bacteria (like E coli ), yeasts, and molds. However, research suggests that it may be useful against some gram-negative bacteria when used in conjunction with other preservatives.
STANDARD
Items

Standard       

 

Description

white power

Potency

≥900 IU/mg

Loss on drying

≤3.0%

Lead

≤5mg/Kg

Heavy metals(as Pb)

≤10mg/Kg

Mercury

≤1mg/Kg 

Arsenic

≤1mg/Kg 

Sodium  chloride

≥50%

Total plate count

≤10cfu/g

E.Coli

25g Negative

Salmonella

25g Negative
APPLICATION STANDARD
| | | |
| --- | --- | --- |
| Food Category No. | Food Category | Max level (g/kg) |
| 01.1.4 | Flavoured fluid milk drinks | 480 |
| 01.4.3 | Clotted cream (plain) | 400 |
| 01.6.1 | Unripened cheese | 480 |
| 01.6.2 | Ripened cheese | 480 |
| 01.6.4 | Processed cheese | 480 |
| 01.6.5 | Cheese analogues | 480 |
| 01.6.6 | Whey protein cheese | 480 |
| 01.7 | Dairy-based desserts (e.g. pudding, fruit or flavoured yoghurt) | 480 |
| 06.5 | Cereal and starch based desserts (e.g. rice pudding, tapioca pudding) | 120 |
| 07.2 | Fine bakery wares (sweet, salty, savoury) and mixes | 240 |
| 08.2.2 | Heat-treated processed meat, poultry, and game products in whole pieces or cuts | 1000 |
| 08.3.2 | Heat-treated processed comminuted meat, poultry, and game products | 1000 |
| 08.4 | Edible casings (e.g. sausage casings) | 280 |
| 10.2.1 | Liquid egg products | 240 |
| 12.5.1 | Ready-to-eat soups and broths, including canned, bottled, and frozen | 200 |
| 12.6.1 | Emulsified sauces and dips (e.g. mayonnaise, salad dressing, onion dip) | 200 |
| 12.6.2 | Non-emulsified sauces (e.g. ketchup, cheese sauce, cream sauce, brown gravy) | 200 |
| 12.6.4 | Clear sauces (e.g. fish sauce) | 200 |
| 12.6.7 | Salads (e.g. macaroni salad, potato salad) and sandwich spreads excluding cocoa- and nut-based spreads of food categories 04.2.2.5 and 05.1.3 | 200 |
PACKAGE
■ 500g/bottle ,20 bottles/carton
■ 1.0kg/bag ,10kg/carton