Products:Natamycin, Pimaricin
CAS:7681-93-8
INS:235
Molecular weight:665.73
Molecular formula :C20H41N4O3Cl
Molecular structural: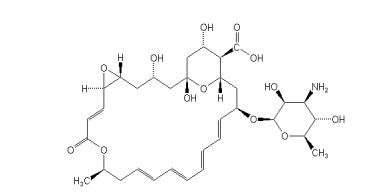 Natamycin (pimaricin) is a polyene macrolide antibiotic produced by submerged aerobic fermentation of Streptomycesnatalensis and related species. Fermentation is conducted for several days, and the antibiotic is isolated either by broth extraction or by extraction of the mycelium. The activity of natamycin against yeasts and moulds, but not bacteria, makes it convenient for use in foods that undergo a ripening period after processing.Its low solubility in water and most organic solvents makes it suitable for the surface treatment of foods. Natamycin was evaluated by the CAC(Codex Alimentarius Commission). At its twentieth meeting, the Committee established an ADI of 0–0.3 mg/kg bw. Natamycin is currently approved by the FDA for use on the surface of cuts and slices of cheese where the standards for such cheese provides for the use of safe and suitable mold inhibiting ingredients.Natamycin may be applied to cheese by dipping or by spraying a liquid solution that contains 200 to 300 parts per million (ppm) of the additive. In antimyotic food additive used to protect cheese from mold and yeast growth.
Its medical use is now confined to topical treatment of corneal fungal infections and the prevention of suchinfections in users of contact lens. Natamycin is used topically in veterinary medicine to treat mycotic infections, such as ringworm in cattle and horses. Previously, it was used topically against fungal infections of the skin and mucous membranes in humans.
Standard
| | |
| --- | --- |
| Items | Standard |
| Description | White to creamy-white powder and odorless |
| Identification | Complies with the requirements |
| Solubility | Pratically insoluble in water; slightly soluble in Methanol; soluble in Acetic acid and in Dimethylformamid. |
| Specific rotation | +250°~+295° |
| Assay(On dried basis) | ≥95.0% |
| pH(1%aqueous solution) | 5.5~7.5 |
| Loss on drying | ≤8.0% |
| Ash | ≤0.5% |
| Heavy metals(Total as Pb) | ≤10mg/Kg |
| Arsenic | ≤3mg/Kg |
| Lead | ≤2mg/Kg |
| Mercury | ≤1mg/Kg |
| Particle size | 100% less then 10μm |
| Total plate count | ≤100cfu/g |
| Coliforms | ≤40MPN/100g |
| Listeria monocytogenes | 25g Negative |
Usage standard
| | | | |
| --- | --- | --- | --- |
| Food Cat No | Food Category | Max Leve | Year Adopted |
| 01.6.1 | Unripened cheese | 40mg/kg | 2006 |
| 01.6.2 | Ripened cheese | 40mg/kg | 2006 |
| 01.6.4 | Processed cheese | 40mg/kg | 2006 |
| 01.6.5 | Cheese analogues | 40mg/kg | 2006 |
| 01.6.6 | Whey protein cheese | 40mg/kg | 2006 |
| 08.2.1.2 | Cured (including salted) and dried non-heat treated processed meat, poultry, and game products in whole pieces or cuts | 6mg/kg | 2006 |
| 08.3.1.2 | Cured (including salted) and dried non-heat treated processed comminuted meat, poultry, and game products | 20mg/kg | 2001 |